https://www.theguardian.com/commentisfree/2018/feb/16/justin-welby-church-archbishop-canterbury
With piety and steel, Justin Welby has the church in his firmest grip
The Archbishop of Canterbury has shaped the CofE to his will with a skill of a politician – and made it all the better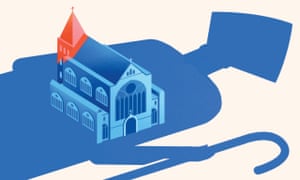 Last Saturday in central London, two archbishops joined a small group of people protesting about sexual abuse. Though you might expect – or at least hope – to find archbishops on the side of the angels, what was remarkable was that they were protesting against their own church. The building in question was Church House, in Westminster, where the Church of England's General Synod was meeting, due later that day to discuss the problem of sexual abuse, with the church facing more than 3,000 historical claims. By standing with the protesters, the Archbishops Justin Welby and John Sentamu were making a loud statement about where their sympathies lay. You had to listen very carefully under the noise to notice that the synod debate was in fact a presentation of a report and there were no survivors speaking in it.
The day before, there had been two other announcements on the subject: the church passed over its papers on the diocese of Chichester, where most of the scandals have come from, to the Independent Inquiry into Child Sexual Abuse – 75,000 documents in all. What needles might be concealed in this haystack will be for the commission to discover. More sensationally, it announced that a second allegation against the late, and almost sainted, Bishop George Bell of Chichester had been passed to the police.
This came in the wake of unprecedented public criticism of Welby by heavyweight legal figures for his apparent assumption of Bell's guilt on the word of one pseudonymous accuser. He has refused to back down despite Lord Carlile QC's scathing verdict of the church's inquiry. Welby has refused to say either that Bell was guilty or that his name can be cleared. So you might say that this is a typical Anglican fudge, but it is very much more hard-edged than most of those.
The whole show was typical of Welby's style as Archbishop of Canterbury: he combines energy, ruthlessness and a determination to get the church moving, through a mixture of public theatricality and arm-twisting behind the scenes. He has been archbishop for five years and next month will publish a fat state-of-the-nation book that covers almost all the current areas of political and cultural dispute in the church. The early coverage of him concentrated first on the unashamed poshness of his background – an Etonian whose mother had been one of Churchill's secretaries and who had worked for 10 years in the oil industry – and then on his attacks on payday lending. The church, he promised, would outcompete Wonga in helping the poor. This was a successful piece of outrageous bluff. The church did no such thing, but in pledging to do so Welby captured the public imagination.
Since then he has proved more effective than any of his immediate predecessors in pushing the church in the direction he wants, despite the lack of formal power in the role. He told the Church Times: "Don't waste time looking for levers to pull [in this role], because there aren't any. It's a process of persuasion, of example, of blessing and withholding blessing for particular things."
On the other hand, he loves the work of nudging and manipulation. When he was trying to get the bishops of the worldwide Anglican communion to agree to meet again after decades of wrangling over gay sex and female bishops, he spent much of his annual holiday ringing the heads of the member churches for 20 minutes each – not how most people would choose to spend their holidays. And though he disclaims the ability to select bishops, ever since he drove through the legislation to make women bishops in 2013, the holy spirit has somehow ensured that half of the bishops appointed have been women, among them Sarah Mullally to the prominent see of London, and Jo Bailey Wells, his former chaplain, to be bishop of Dorking.
His manner is austere, somewhere between oil industry executive and crisp infantry officer. His temper is widely feared ("I haven't been spoken to like that since I was at school," said one victim), but at the same time it's difficult to talk to him seriously without glimpsing beneath the armour of success, self-discipline and charming self-deprecation, the clever and miserable boy he must once have been. His critics say he is trying to turn the church towards soulless managerialism, devoid of mystery or imagination – and this stings him deeply. He is immensely proud of the small monastic community he has established inside Lambeth Palace, where young people spend a year doing nothing much but praying and thinking.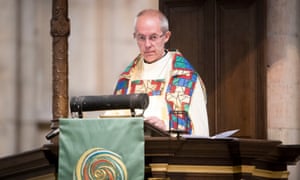 Behind the scenes, Welby has done an enormous amount to centralise the church's institutions and make it more of an organisation, although it will never in fact become one. He has hired high-profile PR advisers from Buckingham Palace and the City of London and given them substantial budgets. He works enormously long hours and is unsparing of failure in others. His treatment of one of his predecessors, Lord Carey, was startlingly ruthless. Carey, who was Archbishop of Canterbury in the 1990s, had much the same diagnosis of the church's ills as Welby and many of the same answers, but entirely lacked the political and presentational skills to carry them out. He also had a much greater respect for the establishment than the Etonian Welby, who sometimes burns with an insider's scorn and anger at the fools he went to school with.
While in office, Carey connived at the partial rehabilitation of the paedophile bishop of Gloucester, Peter Ball; he gave him money, and tried to get him a job in South Africa under Desmond Tutu. When this came to light last year, Welby promptly sacked Carey from his retirement job as an unpaid priest.
Whether any or all of this will be enough to stem the long-term decline of churchgoing remains to be seen. The problem facing the Church of England is that it hardly ever makes converts of adults, while those born into it are not very concerned with passing the faith on to their children. In fact, for many congregants the church seems to be a place of refuge from the modern world: in a recent case where parishioners objected to their priest's attempts to install toilets in a medieval church, one reason given was "toilets attract children".
Changing that is beyond the power of any archbishop; it will require a profound cultural revolution that starts in the parishes. But what he can justifiably claim after five years is that he has done nothing to make the task more difficult and much to make it seem more urgent. That may not seem much but it's more than any other archbishop has managed for a long time.
• Andrew Brown is a Guardian columnist