http://www.bbc.co.uk/news/uk-england-42401825
Archbishop of Canterbury criticised by Lord Carey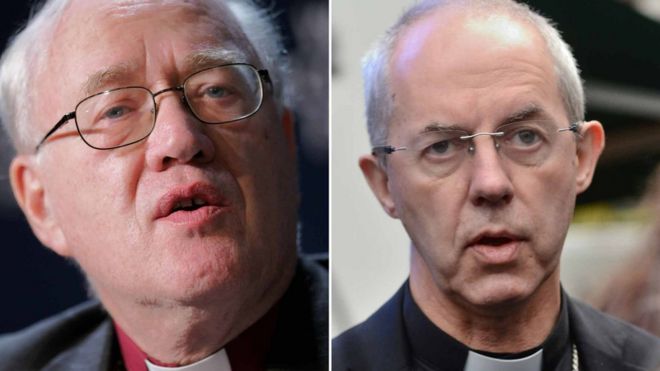 Former Archbishop of Canterbury Lord Carey, who was made to stand down from an honorary post by the incumbent Justin Welby, has criticised the move.
Lord Carey said the archbishop's insistence he resign over his handling of claims against Bishop Peter Ball – jailed for sex offences – was unjust.
The 82-year-old made the remarks in a letter. Lambeth Palace said it did not comment on private correspondence.
A review this year found senior Church figures "colluded" with Ball.
A Lambeth Palace spokeswoman said: "We do not comment on private correspondence but the independent inquiry into the handling of the Peter Ball case speaks for itself."
'Unjust decision'
In a letter to update friends about developments during 2017, Lord Carey wrote: "Less desirable has been the shocking insistence by the archbishop that I should stand down from ministry 'for a season' for mistakes he believes were made 24 years ago when Bishop Peter Ball abused young potential priests.
"His decision is quite unjust and eventually will be judged as such."
Lord Carey had been given a role as an honorary assistant bishop in the diocese of Oxford but was asked to resign after the Bishop Ball review.
Ball, former bishop of Lewes and Gloucester, was jailed for two years and eight months in 2015, after admitting sex offences against 18 teenagers and young men between the 1970s and 1990s.
Lord Carey's letter was sent out at the weekend, shortly after an independent inquiry criticised the Church over its handling of the Bishop George Bell case in Sussex.
A report on Friday found the Church "rushed to judgement" on the former Bishop of Chichester, who died in 1958 and was alleged to have repeatedly abused a young girl. The report also said Church processes were deficient.
Ex-Archbishop Lord Carey resigns after child abuse review

Church 'colluded' with sex abuse bishop Peter Ball

Retired bishop Peter Ball jailed for sex assaults