http://jerseyeveningpost.com/news/2017/07/27/comment-if-a-week-is-a-long-time-in-politics-how-about-eight/
July 27, 2017 8:00 pm
Jersey Evening Post
Gary Burgess
The Jersey Way is a vast, deep-rooted beast, with the ability to make itself felt in the most obscure and murky places. It is a cancer which, even in an unspoken way, has the ability to blur the boundaries between right and wrong. It can make ordinarily good people turn a blind eye to bad things. It can forgive the drip-drip of improper process, become a tidal wave of wrongdoing before anybody's actually realised there's trouble brewing.
I wrote a fortnight ago about the need to keep up that early momentum.
The national interest in Jersey's shame has moved on. Decades of abuse that dominated the local headlines for a week or so at the start of this month are already fading.
FROM THE ARCHIVES
Stuart Syvret Interview – "A systemic decades-long betrayal of the innocents" – December 5 2007 [Retrieval from the Jersey Evening Post]
http://jerseyeveningpost.com/features/2017/07/25/stuart-syvret-interview-a-systemic-decades-long-betrayal-of-the-innocents-2/
Stuart Syvret on Twitter
https://twitter.com/stuartsyvret?lang=en
2. https://richardwsymonds.wordpress.com/2017/07/29/july-29-2017-stuart-syvret-twitter/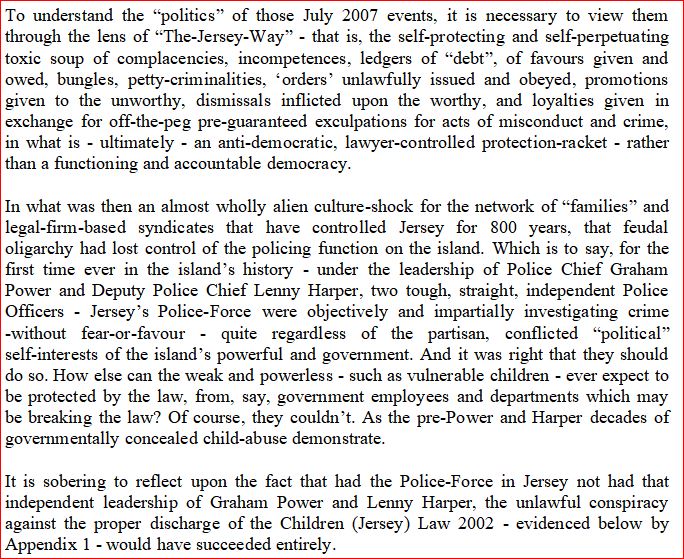 3. A Background on "The Jersey Way" – December 5 2015 – Photopol – "Power Points"
https://richardwsymonds.wordpress.com/2017/07/29/december-5-2015-background-to-the-jersey-way-photopol/